Kristin Costin
2023 Business Woman of the Year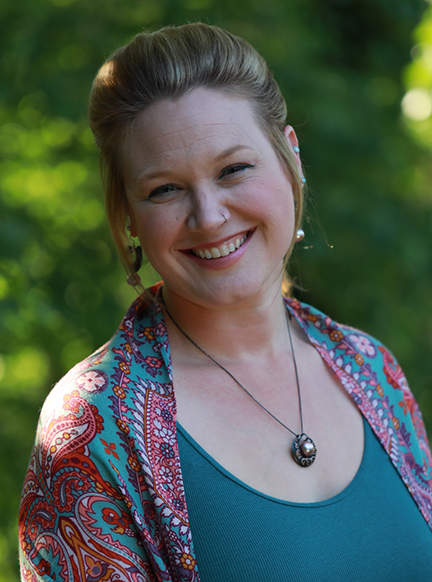 Kristin Costin is a passionate collector of jewelry, art, and the stories of the artists behind them. She is the owner of The Jeweled Warrior, a new gallery and gathering space in the heart of Eagle. The gallery features sustainable fine jewelry, local artisan gifts, and engaging events.
From a young age Kristin was fascinated with unique jewelry that has a story to tell. Jewelry collected during family travels was her route to connect with others by proudly telling the story of where the piece came from. She loves collecting the stories of artists, and honed this passion during her studies of Eastern Religion and Studio Arts at the University of Rochester, NY. It was here that she first learned about sustainability, and became interested in how to be an active participant in doing better for our earth. Her love of jewelry and art and passion for protecting nature combined to spark her interest in sustainable artists around the world.
Her gallery now showcases the works of over 50 artists- 99% of them female. Intent on giving back, her business model incorporates robust collaborations between nonprofits and artists working together to raise awareness about and funding for issues in our community. In addition to these collaborations, the gallery donates 1% of all profits to EndoWhat?, a nonprofit working to raise awareness for Endometriosis.
Beth Sharamatew
2023 Volunteer of the Year
Beth Sharamatew is a lifelong resident of Exton with a family history that dates back to William Penn's era. Beth works as a job and life skills coach within the intellectually disabled community, enabling those she serves to live a broader, more enriched life. With 3 young-adult children, Beth has always enjoyed giving back by volunteering within the kids' schools and activities, as well as her church. When not volunteering, Beth enjoys walking, gardening, crafting and traveling with husband, Steve, to visit any location with a body of water.
Beth has volunteered for A Path to Hope (APTH) since its very first resource fair in March 2019. Beth is a dedicated, highly organized volunteer who quietly works in the background to assure APTH runs smoothly. Beth is the definition of dedicated! She has given so much of her time to APTH over the years that it was not even a question of to whom this award should be given. Thank you, Beth, for your friendship and commitment to the cause! Congratulations!