Debi Friedmann
2020 Business Woman of the Year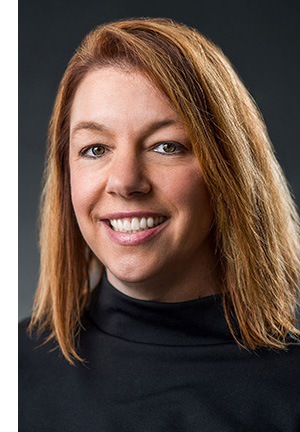 A 1994 graduate of Elizabethtown College, Debi's bachelor's degree in communications coupled with a double minor in business administration and psychology laid the groundwork for her entrepreneurial pursuits. A graphic designer by trade, she honed her skills in advertising at Image Dynamics, an agency in Baltimore, Maryland. Her next move was into publishing with the Rosen Group and North American Publishing Company. In 1996, she formed her own business, Designing Wright, the predecessor to Blue Dog Printing & Design.
Debi serves on the Occupational Advisory Board for the Technical College High School, Brandywine Campus. She is a member of EOA (Entrepreneurs Organization Accelerators) as well as serving on their board of directors. In May of 2019, Debi graduated from the Goldman Sachs 10,000 Small Business Program, Cohort 18. December of 2018 marked the conclusion of her roles on the board of directors for the Greater West Chester Chamber of Commerce and the Women's Business Connection. As a member of the Rotary Passport Club of West Chester, Debi is involved in several service projects, including Community Warehouse Project and Stockings For Soldiers.
Debi received the President's Award for the Exton Region Chamber of Commerce in 2009, the Communications Alumni Award from Elizabethtown College in 2010 and the Small Businessperson of the Year Award from the Exton Region Chamber of Commerce in 2014. After sitting on a multitude of committees that plan fundraising events, Debi has become an Eventbrite Certified Planner in 2019.
On the weekends, Debi enjoys volunteering at Penn Medicine Hospice Center and reading a good book.
Nina Margusity Yentzer
2020 Volunteer of the Year
Ms. Nina Margusity Yentzer is a nurse, attorney and educator, who graduated from the University of Delaware with a BSN in 1975 and Widener University School of Law with a JD in 1994.
Currently she is an attorney with a solo practice in Cochranville, PA and a PRN Nurse at the Valley Creek Residential Crisis Center, Holcomb Behavioral Health Systems in Exton, PA. For approximately 42 years Ms. Yentzer was a full time nursing employee of the Department of Veterans Affairs, both in Wilmington Delaware and Coatesville PA. She has also been an adjunct professor of Immaculata University for the RN to BSN program, a TLC Institute instructor for the Pennsylvania Nurse Aide Program and a speaker for numerous medical institutions, agencies, state and local nurse's organizations and public/private organizations in over ten states. She is notable for her expertise on numerous mental health topics but in particular preventing and managing violence in the workplace, the use of and alternatives to restraints in medical settings and Health Law and Nursing and the Law.